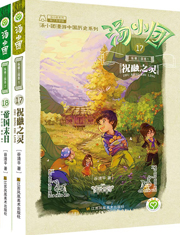 Tang Xiaotuan's Adventure in the Three Kingdoms
Since the Tang Xiaotuan book series was launched two years ago, the stories about the brave young time travelers have become very popular among young readers.
Overview:
This book is a biography of Yang Lan, covering her 20 years experience in media, revealing the times from Yang Lan's perspective. In this book, Yang Lan tells about her experiences from 1995 to 2010, her interactions with leading figures like Henry Kissinger, Bill Clinton, Tony Blair, George Herbert Walker Bush, Lee Kuan Yew and Jack Welch; her personal transformations, her understanding of "win" and the media world.
Author: Yang Lan
Publisher:Jiangsu People's Publishing, Ltd.
Price: ¥32. 00
April 2011
ISBN 978-7-214-06882-8
Paperback 230pp