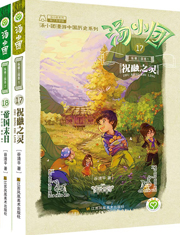 Tang Xiaotuan's Adventure in the Three Kingdoms
Since the Tang Xiaotuan book series was launched two years ago, the stories about the brave young time travelers have become very popular among young readers.
Overview:
From a little unconfident small-eyed girl to one of China's most influential women, Yang Lan has had tremendous success in her career and life. From marriage to love, from parent to child, from career to family, every aspect of her life is full of her wisdom. How did she do it? Readers will have a chance to reflect on their own lives and happiness they want to pursue through reading her stories. In this book, Yang Lan will share her secrets to pursue happiness.
Author: Yang Lan
Publisher: Jiangsu Literature Publishing, Ltd
Price: ¥35
Jan. 2013
ISBN 978-7-5399-5874-3
Paperback 252pp