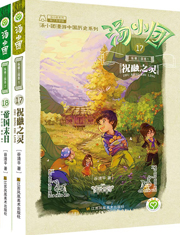 Tang Xiaotuan's Adventure in the Three Kingdoms
Since the Tang Xiaotuan book series was launched two years ago, the stories about the brave young time travelers have become very popular among young readers.
Overview:
This is an encyclopedia about women. Through a series of humorous and warm stories, the author tries to help women to truly understand their own bodies, care for themselves, control their fates and directions of lives, and avoid unnecessary harm.
Author: Zhang Yu
Publisher: Jiangsu People's Publishing, Ltd.
Price: ¥70
Jan. 2014
ISBN 978-7-214-09006-5
Paperback 311pp