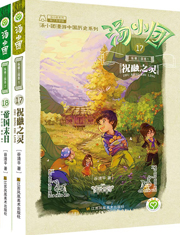 Tang Xiaotuan's Adventure in the Three Kingdoms
Since the Tang Xiaotuan book series was launched two years ago, the stories about the brave young time travelers have become very popular among young readers.
Overview:
This book has won the "2013 CCTV Best Book of China" with its elaborate presentation of surname symbols that concern every Chinese. Chinese surnames present the region, history, and stories of the family. This work is the speech draft of a famous scholar who introduces origin and development of the most common Chinese surnames.
Author: Qian Wenzhong
Publisher: Jiangsu Phoenix Literature and Art Publishing, Ltd
Price: ¥39.8
May 2013 ISBN 978-7-5399-6201-6
Paperback 481pp