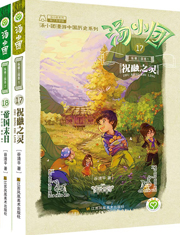 Tang Xiaotuan's Adventure in the Three Kingdoms
Since the Tang Xiaotuan book series was launched two years ago, the stories about the brave young time travelers have become very popular among young readers.
Overview:
It all began with a letter inquiring about second-hand books, written by Helene Hanff in New York, and posted to a bookshop at 84, Charing Cross Road in London. As Helene's sarcastic and witty letters were responded to by the stodgy and proper Frank Doel of 84, Charing Cross Road, a relationship blossomed into a warm, charming, feisty love affair.
Author: CHEN Jianmin, trans. from English by Helene Hanff
Publisher: Yilin Press
Price: ¥35
2016
ISBN: 9787544762885
Hardcover, 155 pages