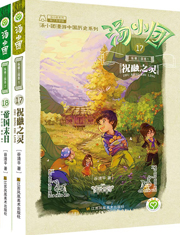 Tang Xiaotuan's Adventure in the Three Kingdoms
Since the Tang Xiaotuan book series was launched two years ago, the stories about the brave young time travelers have become very popular among young readers.
Overview:
This book contains eight profound stories about the reality of people from bottom of the society. The short story Fat Duck narrates the toxic relationship between a teenage girl and her grandmother in an otherwise ordinary family, and their distinct, bizarre deaths. Such "banal evil" fully embodies the inherent wickedness of Chinese domestic culture and family life.
The Worm-eaten Outlander tells of the extraordinary cruelty and greed of a group of villagers, who, having seen themselves bestowed the power to seize and kill, swell up with inane primitiveness; it is barbarism amid civilized society, a crisis buried deep within humanity.
The Author's Enemy is the story of a famed and wealthy veteran writer, whose inspiration and skill are worn down by his vanity; he thus suffers from the discovery of an extremely talented tyro, whom he conspires to nip in the bud … Alternatively, in The River of Forgetfulness and other pieces, A Yi engages in stylistic and thematic experimentation.
About the Author:
A Yi's unique experience with life brings exceptional lucidity to his portrayal of the different faces of society. His craft, sophisticated and almost brutally, viciously accurate, pierces like a dagger to the heart of the reader, who will find such a quality most vividly manifest in his book.
Author: A Yi
Publisher: Yilin Press Ltd
Price: ¥36.00
June 2016
ISBN 9787544759601
Paperback 212 pp
Coyright manager: Zhao Wei
E-mail: rights@yilin.com