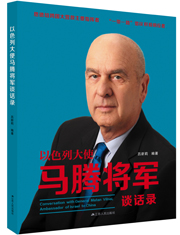 Conversation with General Matan Vilnai, Ambassador of Israel to China
The book is the first autobiography of a high-ranking Israeli official published in China. It describes the legendary military and political experiences of Matan Vilnai, Israel's influential retired Major General and former Ambassador to China.
Overview:
A Hungarian tale written by Yu Zemin, a famed novelist and literary translator, takes place during the 1990s, a turbulent period of history in the Central European country. Situ, the novel's Chinese protagonist, has fled his parents and relocated to the beautiful but troubled countryside where he befriends Zoran. In spite of trying to escape aspects of his Chinese background, Situ finds himself constantly surrounded by reminders of his homeland.
In a rich novel that explores themes of family, race, youth, and love, Zemin portrays a character trapped between two imperfect worlds and the decisions that a passionate young man must make.
Author: Yu Zemin
Publisher: Phoenix Literature & Art Publishing Ltd
Price: ¥36.00
Jan 2016
ISBN 978-7-5399-8820-7
Paperback 393 pp
Coyright manager: Wang Yuyao, 274187932@qq.com