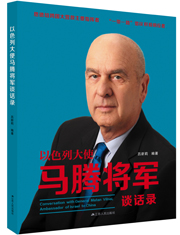 Conversation with General Matan Vilnai, Ambassador of Israel to China
The book is the first autobiography of a high-ranking Israeli official published in China. It describes the legendary military and political experiences of Matan Vilnai, Israel's influential retired Major General and former Ambassador to China.
Overview:
This historical novel is set during the first half of the 20th century in China, a turbulent period of time in the country. This is the first saga about those who die a martyr at Yuhuatai.
The novel follows the contours of history through Kuomintang-Communist cooperation, the Northern Expedition (1926–27), the April 12 Counter-revolutionary Coup, the resistance against Japanese aggression, and the War of Liberation (1946–49). It sees Xu Zihe, after receiving a doctor's degree in Germany, become a firm revolutionary and hope for the rejuvenation of the nation.
Author: Zhang Xinke
Publisher: Phoenix Literature & Art Publishing Ltd
Price: ¥48.00
Jan 2017
ISBN 9787539997773
Paperback 446 pp
Coyright manager: Wang Yuyao
E-mail: 274187932@qq.com