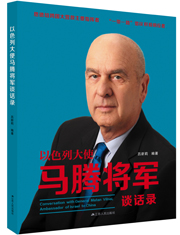 Conversation with General Matan Vilnai, Ambassador of Israel to China
The book is the first autobiography of a high-ranking Israeli official published in China. It describes the legendary military and political experiences of Matan Vilnai, Israel's influential retired Major General and former Ambassador to China.
Overview:
This book marks the first publication devoted to Luo's most influential long poems. Luo Fu is widely acknowledged as a great poet in contemporary Chinese poetic circles.
He has made great contributions through his long poems, which have served to promote the development of contemporary Chinese poetry. His collection of long poems includes Death in a Stone Cell and Floating Wood. Luo was a nominee for the Nobel Prize for Literature in 2001 for his long poem Floating Wood.
Author: Luo Fu
Publisher: Phoenix Literature & Art Publishing Ltd
Price: ¥35.00
Mar 2017
ISBN 9787539997230
Hardcover 216 pp
Coyright manager: Wang Yuyao
E-mail: 274187932@qq.com