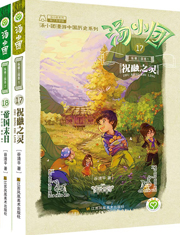 Tang Xiaotuan's Adventure in the Three Kingdoms
Since the Tang Xiaotuan book series was launched two years ago, the stories about the brave young time travelers have become very popular among young readers.
Overview:
This book stands as the most authoritative collection of Gu Cheng's works and illustrations. Composed by Gu Xiang, the elder sister of world-renowned Chinese poet Gu Cheng, the book collects 80 lyric poems as well as dozens of illustrations by Gu Cheng, and includes two essays on poetry.
Author: Gu Xiang
Publisher: Phoenix Literature & Art Publishing Ltd
Price: ¥32.00
Mar 2017
ISBN 9787539996257
Hardcover 206 pp
Coyright manager: Wang Yuyao
E-mail: 274187932@qq.com