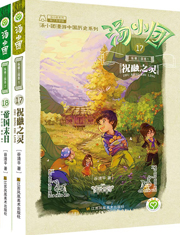 Tang Xiaotuan's Adventure in the Three Kingdoms
Since the Tang Xiaotuan book series was launched two years ago, the stories about the brave young time travelers have become very popular among young readers.
Overview:
This collection includes more than 80 poems written by Yu Kwang-chung spanning from 1959 to 2014. His poems combine Chinese classical literature and Western modern literature, and have been translated into English by the author himself. As a poet and writer, the Nanjing native is highly regarded on account of his prolific writings that have spanned more than five decade.
Author: Gu Xiang
Publisher: Phoenix Literature & Art Publishing Ltd
Price: ¥35.00
Mar 2017
ISBN 9787539998954
Hardcover 280 pp
Coyright manager: Wang Yuyao
E-mail: 274187932@qq.com