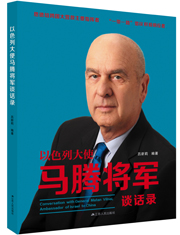 Conversation with General Matan Vilnai, Ambassador of Israel to China
The book is the first autobiography of a high-ranking Israeli official published in China. It describes the legendary military and political experiences of Matan Vilnai, Israel's influential retired Major General and former Ambassador to China.
Overview:
This book series introduces and analyzes traditional Chinese culture in 24 aspects, displaying the characteristics, structure and spirit of that culture. The books are readable and informative as they explain the profound in simple terms, making them a good guide to traditional Chinese culture. Famous scholars Rao Zongyi and Ye Jiaying served as the series' consultants, while scholars from more than 10 universities, including Peking University, Nanjing University and Nankai University, helped to compile the series.
Author: Xu Xingwu, Chen Hong et al.
Publisher: Jiangsu People's Publishing Ltd
Price: ¥800.00
Apr 2017
ISBN 9787214205230
Paperback
Coyright manager: Queenie Liu
E-mail: swallowliu_nnu@163.com