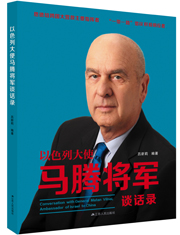 Conversation with General Matan Vilnai, Ambassador of Israel to China
The book is the first autobiography of a high-ranking Israeli official published in China. It describes the legendary military and political experiences of Matan Vilnai, Israel's influential retired Major General and former Ambassador to China.
Overview:
This latest series contains 10 volumes. Each book features an appealing story told beautifully, providing children with a wonderland for the imagination. The books are for children aged from five to eight.
Author: Cheng Wei, Wang Yimei, Yu Lei, Sun Weiwei, Tang Chizi, Guo Jiangyan, Zuo Xuan, Sun Yu, Li Shanshan, Zhao Ling, Chen Shige
Publisher: Phoenix Juvenile and Children's Publishing Ltd
Price: ¥25.00
Mar 2017
ISBN 9787558403903
ISBN 9787558403958
ISBN 9787558403927
ISBN 9787558403873
ISBN 9787558403965
ISBN 9787558403897
ISBN 9787558403941
ISBN 9787558403880
ISBN 9787558403934
ISBN 9787558403910
Paperback
Coyright manager: Wu Xiaohong
E-mail: xhw_2005@aliyun.com, wuxh@ppm.cn