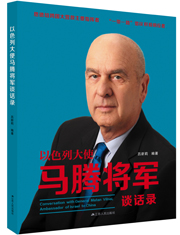 Conversation with General Matan Vilnai, Ambassador of Israel to China
The book is the first autobiography of a high-ranking Israeli official published in China. It describes the legendary military and political experiences of Matan Vilnai, Israel's influential retired Major General and former Ambassador to China.
Overview:
This short story collection by Qi Zhi has charmed readers with its tender writing style and delicate perspective. The series tells the story of a boy named Xiaoshui and his friends living in a village called Tongcun. The writer tries to make readers recall the joy of childhood.
Author: Qi Zhi
Publisher: Phoenix Juvenile and Children's Publishing Ltd
Price: ¥22.00
Mar 2017
ISBN 9787558401145
Paperback 229 pp
Coyright manager: Wu Xiaohong
E-mail: xhw_2005@aliyun.com, wuxh@ppm.cn