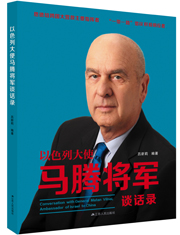 Conversation with General Matan Vilnai, Ambassador of Israel to China
The book is the first autobiography of a high-ranking Israeli official published in China. It describes the legendary military and political experiences of Matan Vilnai, Israel's influential retired Major General and former Ambassador to China.
Overview:
Three thousand years ago, Sitelan City launched the "Mike Operation" and wiped out the evil rat tribe in one night. Now, Maryana, the sole rat to survive the operation, and his followers are plotting revenge against the people of Sitelan. The little rats have evolved into monsters with a tiger-like body. The rat monsters want to conquer Sitelan and even destroy the whole human race! At this crucial moment, Doctor Huck and Little Tyler invent an artificial rat called "Mike". Bearing the hope of Sitelan on its shoulders, Mike sneaks into enemy territory to fight back. Who will win this war between justice and evil?
Author: Qi Zhi
Publisher: Phoenix Juvenile and Children's Publishing Ltd
Price: ¥22.00
Feb 2017
ISBN 9787558402302
Paperback 263 pp
Coyright manager: Wu Xiaohong
E-mail: xhw_2005@aliyun.com, wuxh@ppm.cn