PPMG, 17 years on
Updated: 2018-09-29
(en.ppm.cn)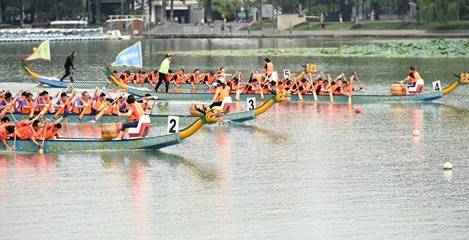 The starting pistol for the annual Phoenix Cup dragon boat race fires at 8:30 am, with 18 teams composed of PPMG staff members competing.
Phoenix Publishing and Media Group (PPMG), a Jiangsu-based publishing giant, held a series of activities Sept 28 to celebrate its 17th anniversary.
The Phoenix Cup dragon boat race, an annual tradition being held for the sixth time, lifted this year's festive curtain at 8:30 am. The celebration attracted company chairman Liang Yong dotting the eyes of the dragon boats, a custom with auspicious wishes, before 18 teams of staff members started racing.
A book exhibition unveiled around 11 am at the Phoenix International Book Mall brought a feast of knowledge to local residents. The past 10 years have seen the mall not only develop into a cultural complex, but also share its commitment in public welfare undertakings.
The day also saw the mall donating two sets of shelves and 500 books and magazines to a local charitable organization.
A live streaming featuring Chinese classic poems and lyrics was held on the sidelines, with four renowned figures, who have been engaged in literary circles for years, sharing their insights and inspirations on the beauty of Jiangnan, an area south of the lower reaches of Yangtze River.
Non-Fiction

Symbols of Jiangsu (Pocket Edition) selects the most representative and symbolic Jiangsu special cultural resources.

Humanities & Social Science; Non-Fiction

Symbols of China examines those things that make China Chinese.