PPM delegation shares copyright insights with Vietnamese partners
Updated: 2019-04-22
(en.ppm.cn)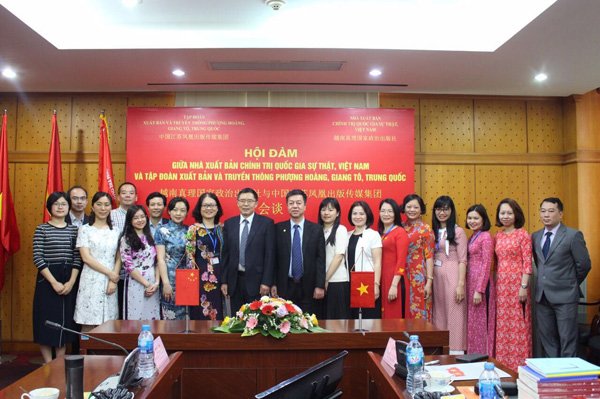 Business insiders from Phoenix Publishing and Media Inc and Vietnam pose for a group photo.
Phoenix Publishing and Media Inc (PPM) led a delegation to Vietnam from April 8 to 12, sharing insights on the copyright business with their counterparts in Hanoi and Ho Chi Minh City.
The delegation consisted of representatives from five PPM press houses. They made their visit to 10 key publishing houses and cultural institutions in Vietnam, where they exchanged ideas on the copyright trade and joint publishing possibilities, reinforced established relationships, built new connections, promoted the quantity export of copyright programs, and laid a solid foundation for further cooperation.
The two sides yielded 34 agreements and realized nearly 100 preliminary cooperative purposes. The prepaid money of one book deal reached up to $3,300, much higher than the average prepayment of 300 to 500 US dollars in Vietnam. It was also PPM's single highest book copyright trade with the Southeastern Asian country.
Non-Fiction

Symbols of Jiangsu (Pocket Edition) selects the most representative and symbolic Jiangsu special cultural resources.

Humanities & Social Science; Non-Fiction

Symbols of China examines those things that make China Chinese.