Phoenix Media wins Chinese top copyright award
Updated: 2021-10-16
(en.ppm.cn)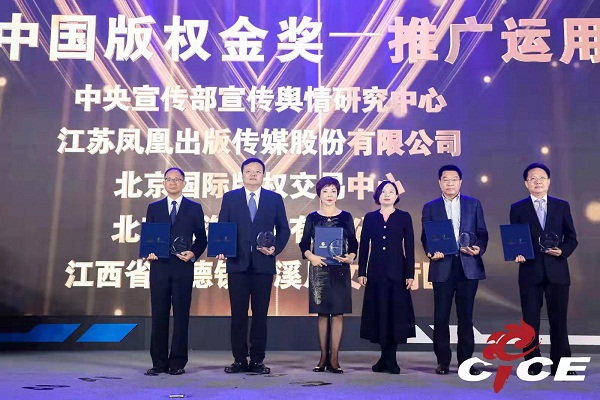 Winners of the WIPO-NCAC Award for Copyright Utilization pose for a group photo.
Phoenix Publishing and Media Inc received the WIPO-NCAC Award for Copyright Utilization, China's highest copyright award, at the eighth China International Copyright Expo, which opened in Hangzhou, East China's Zhejiang province on Oct 16.
PPM's subsidiary Yilin Press published the English version of White-flag Dolphin: Dolphins in the Yangtze River and Other Endangered Animals in China in 1991 with the United States-based Stone Wall Press, as well as the Chinese version of The Silence of the Lambs in 1992, both the earliest in Jiangsu.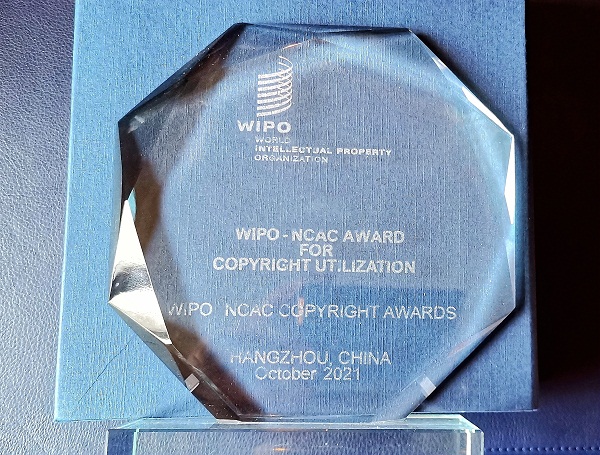 The trophy given to Phoenix Publishing and Media Inc.
One million copies of Bronze and Sunflower published by another of its subsidiaries, Phoenix Juvenile and Children's Publishing Ltd, have been sold, a phenomenal success in copyright promotion.
From 2016 to 2020, PPM sold 1,529 non-Chinese copyrights to 62 countries, including the countries involved in the Belt and Road Initiative, as well as European and American countries, both figures doubling those over the previous five years.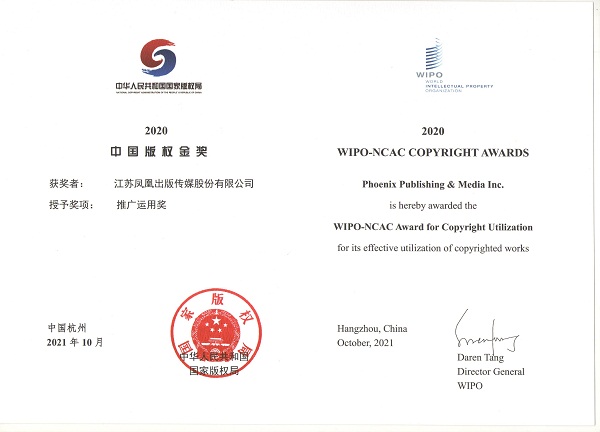 The certificate given to Phoenix Publishing and Media Inc.
The WIPO-NCAC Copyright Awards are presented by the World Intellectual Property Organization and the National Copyright Administration of China to honor individuals and institutions that make significant contributions to copyright creation, utilization, protection, as well as administration management.
Since its first awards ceremony in 2008, the WIPO-NCAC Copyright Awards have been given to 115 works, individuals, and institutions.
Non-Fiction

Symbols of Jiangsu (Pocket Edition) selects the most representative and symbolic Jiangsu special cultural resources.

Humanities & Social Science; Non-Fiction

Symbols of China examines those things that make China Chinese.