Phoenix Subsidiary is China's first Xbox Live Publisher
Updated: 2014-06-20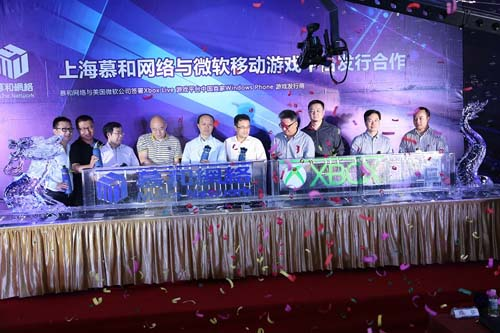 When Shanghai's Muhe Network Technology Co, a subsidiary of the Phoenix Digital Media Ltd, head-quartered  in the city of Nanjing, Jiangsu Province, held a press conference in Shanghai, on June 20, 2014, it marked the official beginning of the cooperation between Microsoft and Muhe, becoming China's first producer of the Xbox Live mobile games.
According to Xie Enwei, vice-president of Microsoft's Greater China Region and GM of the Xbox Division, Microsoft will increase the quantity and improve the quality of Chinese apps on Windows Phone in its cooperation with Muhe.
Phoenix Media's President, Wu Xiaoping, explained that Muhe will also take this opportunity to develop even  more popular games and extend its business further into the home video game console field.
Before the conference, Muhe's game Mystical Card had already appeared on Windows Phone and was the bestseller in China, as well as being one of the top five mobile-games in the world, bringing in 500,000 yuan per day.
Xbox Live is an online multiplayer gaming platform available to various systems such as Windows and Windows Phone. Now that Muhe is one of its publishers, it gives Chinese game developers access to 199 countries and regions through Xbox Live.
Non-Fiction

Symbols of Jiangsu (Pocket Edition) selects the most representative and symbolic Jiangsu special cultural resources.

Humanities & Social Science; Non-Fiction

Symbols of China examines those things that make China Chinese.