Apple's iBook visits Phoenix Digital Media
Updated: 2014-10-24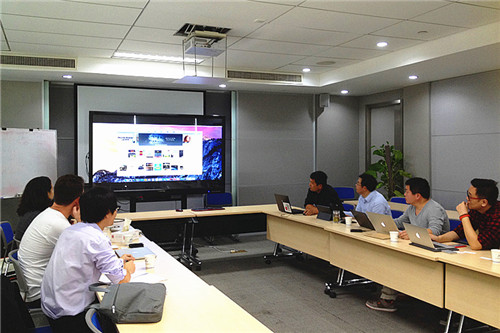 On October 24, 2014, Apple's iBook visited Phoenix Digital Media to discuss cooperation on E-books.
Linden Ellis, project leader of the iBook, introduced interactive digital books in the ePub 3.0 format, giving it functionality across mobiles, tablets, and desktops. In addition to this, users can enjoy its multimedia interactive functions like videos and video games.
Song Jishu, director of Phoenix Digital Media, detailed the company's development and displayed its digital products.
During the visit, iBook's members obtained more information regarding Chinese reading habits and markets, while Phoenix Digital Media learned more about iBook's management and production process for digital books.
Phoenix Digital Media Ltd, established in May 2008, is a wholly-owned subsidiary of Phoenix Publishing and Media. It is in charge of the group's office automation, digital and new media publishing and two websites – Phoenix Education and Phoenix E-Learning.
Non-Fiction

Symbols of Jiangsu (Pocket Edition) selects the most representative and symbolic Jiangsu special cultural resources.

Humanities & Social Science; Non-Fiction

Symbols of China examines those things that make China Chinese.