Yilin Press holds salon on L'art Français de la Guerre
Updated: 2015-01-10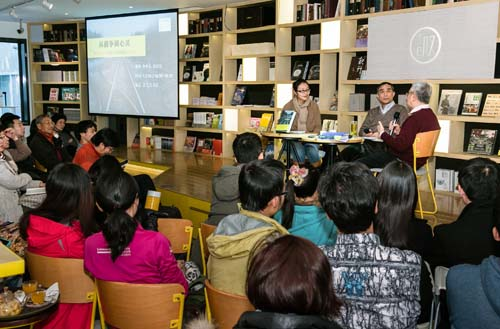 Yilin Press held a reading salon in Beijing of the Chinese version of Alexis Jenni's L'art Français de la Guerre, on Jan 10.
L'art Français de la Guerre unfolds grand wartime scenes from a unique perspective. It was translated into Chinese by the famous translator Yu Zhongxian
The novel won the Prix Goncourt in 2011. "It's important to exorcise the unpleasant parts of history through literature, and not through political discourse, which doesn't help at all. Thanks to fiction, we can probe deep into these problems and touch people's consciences and hearts," said a Goncourt judge.
The novel was partly inspired by The Art of War, an ancient Chinese military treatise attributed to Sun Tzu. The title of the Chinese version is thus appropriately titled Falanxi binfa, Yu said.
Yu Zhongxian, editor-in-chief of the Chinese bimonthly World Literature, was awarded the Order of Arts and Letters (Ordre des Arts et des Lettres) by the French government in 2002. He translated more than thirty works of famous French writers, such as Gérard de Nerval, Claudel Paul, Milan Kundera, and Claude Simon. He devoted two years to translating L'art Francais de la Guerre.
The Prix Goncourt was established in 1903. This annual French literature prize is awarded by the Goncourt Academy to the author of "the best and most imaginative prose work of the year". Of the "big six" French literary awards, the Prix Goncourt is the best known and most prestigious.
Non-Fiction

Symbols of Jiangsu (Pocket Edition) selects the most representative and symbolic Jiangsu special cultural resources.

Humanities & Social Science; Non-Fiction

Symbols of China examines those things that make China Chinese.