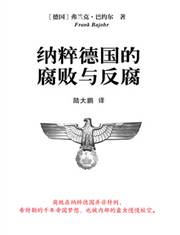 Corruption and Anti-corruption of Nazi Germany
A comprehensive disclosure of corruption and anti-corruption of Nazi Germany, filling the blank in Nazi research and reveals the cause of corruption under totalitarian rule.
Overview: 
The Origins of Sex is a groundbreaking book. Faramerz Dabhoiwala describes the first sexual revolution - a sea change in attitudes towards sexual morality, the public and the private by connecting this critical sexual transformation to the intellectual, political, and social forces that shaped the period. It is also involved in the creation of a new model of Western civilization.
Author: Faramerz Dabhoiwala (UK)
Press: Yilin Press
Price: ¥58
Publication Date: February 2015