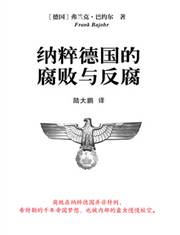 Corruption and Anti-corruption of Nazi Germany
A comprehensive disclosure of corruption and anti-corruption of Nazi Germany, filling the blank in Nazi research and reveals the cause of corruption under totalitarian rule.
Overview:
Holden was born in a wealthy middle-class family in New York and school teachers and his parents forced him to study hard. He could not bear it and was always punished. He is very depressed and eventually collapses in a mental hospital.
Author: J.D. Salinger (US)
Press: Yilin Press
Price: ¥25
Publication Date: April 2010