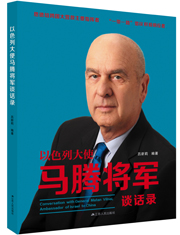 Conversation with General Matan Vilnai, Ambassador of Israel to China
The book is the first autobiography of a high-ranking Israeli official published in China. It describes the legendary military and political experiences of Matan Vilnai, Israel's influential retired Major General and former Ambassador to China.
Overview:
This book is a collection of "From Tsinghua Garden to Weiming Lake" "Hindsights" and "What to Do",cover aspects of university education, political experience, personnel training and reflections on life. It is rich in content with a simple and plain writing style. The book is close to life, intelligent and witty, and a good guide for public servants.
Author: Ren Yanshen
Publisher: Jiangsu People's Publishing Ltd.
Price: ¥58.00
Date: March 2015