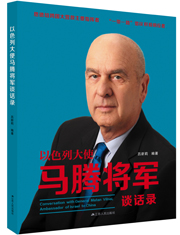 Conversation with General Matan Vilnai, Ambassador of Israel to China
The book is the first autobiography of a high-ranking Israeli official published in China. It describes the legendary military and political experiences of Matan Vilnai, Israel's influential retired Major General and former Ambassador to China.
Overview:
Guided by Chinese and Western aesthetic theories and based on extensive literature and academic research, the book tracks the origin and development of Chinese traditional aesthetics as well as providing a thoughtful analysis of important aesthetic opinions, genres, and important figures in Chinese aesthetic history.
Author: Ye Lang
Publisher: Jiangsu People's Publishing Ltd
Price: ¥390.00 (Paperback)
Date: January 2014