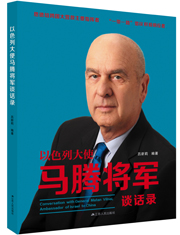 Conversation with General Matan Vilnai, Ambassador of Israel to China
The book is the first autobiography of a high-ranking Israeli official published in China. It describes the legendary military and political experiences of Matan Vilnai, Israel's influential retired Major General and former Ambassador to China.
Overview:
The book is a treasure trove of literary, political, aesthetic, scientific, and religious sources, which allow the reader direct access to the views and feelings of the Chinese people toward their environment and their landscape. It portrays the 4,000-year-long collision of humans and nature in China.
Author: Mark Elvin (UK)
Publisher: Jiangsu People's Publishing Ltd.
Price: ¥68.00