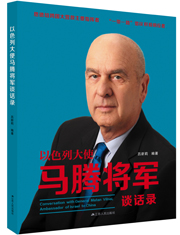 Conversation with General Matan Vilnai, Ambassador of Israel to China
The book is the first autobiography of a high-ranking Israeli official published in China. It describes the legendary military and political experiences of Matan Vilnai, Israel's influential retired Major General and former Ambassador to China.
Overview:
This is a set of original picture books worked together by writers and illustrators. It is in a poetic narrative style with beautiful pictures.
Titles and authors:
"Mystic Eyes", Written by Bing Bo, Illustrated by Gui Tuzi
"Fire Dragon", Written by Bing Bo, Illustrated by Wu Bo
"Bon Voyage", Written by Bing Bo, Illustrated by Luo Xi
"Bark Hut Under the Window", Written by Bing Bo, Illustrated by Xing Huo
"Meet the Sheep", Written by Wang Yimei, Illustrated by Gui Tuzi
"Panic Jellyfish", Written by Wang Yimei, Illustrated by Bai Wanwan
 Publisher: Jiangsu Phoenix Children's Publishing Group
Price: ¥29.8 yuan per volume
Publication date: January 2015