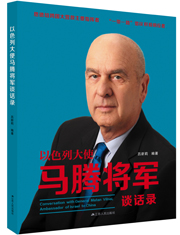 Conversation with General Matan Vilnai, Ambassador of Israel to China
The book is the first autobiography of a high-ranking Israeli official published in China. It describes the legendary military and political experiences of Matan Vilnai, Israel's influential retired Major General and former Ambassador to China.
Overview:
"My first book of dream life" is book set for 6-10 year-old children on careers. With interesting pictures and informative description, it makes it easy for children to understand careers.
Titles and authors:
"If You Are Creative", Illustrated by Wang Xiaoxiao
"If You Love Research", Illustrated by Wang Xiaoxiao
"If You Are Full of Love", Illustrated by Wang Xiaoxiao
"If you Love Adventure", Illustrated by Qian Haiyun
"If You Seek the Truth", Illustrated by Qian Haiyun
"If You Are Energetic", Illustrated by Qian Haiyun
Publisher: Jiangsu Phoenix Children's Publishing Group
Price: ¥16.00
Publication date: March 2015