Phoenix books at London Book Fair
Updated: 2015-08-06

On April 14, the English versions of The Night Before Chinese New Year and Chinese Etiquette Picture Books appeared at the London Book Fair during the release ceremony. Director of the Book Fair, Jacks Thomas, said that Phoenix Juvenile and Children's Publishing had done a great job in disseminating Chinese culture to the world.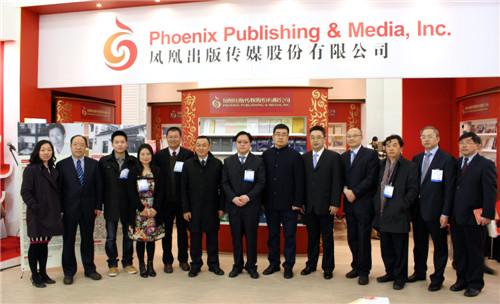 The Night Before Chinese New Year, by Qi Zhi, was published by Phoenix Juvenile and Children's Publishing in 2014 and sold around 50,000 copies over the following 10 months. England's Xanadu Publishing bought the rights to the book.
Chinese Etiquette Picture Books, from the Jiangsu Provincial Civilization Office and Phoenix Vocational Education Books, is a series that explains traditional Chinese etiquette with pictures, along with an English version from Xanadu Publishing as well. It was adapted to make better sense to foreign readers. There are seven books including, A Magical Pack, Zebra Zambi Back from the City, Fruit Rain, The Two Trees, The Shining Teeth, The Little Snail's Applause ,and The Girl and the Swallows.
Afterwards, Phoenix Media donated a large amount of its children's books to London's Charing Cross Library and promised to do this on a long-term basis.