Snuggling first released at London Book Fair
Updated: 2015-08-06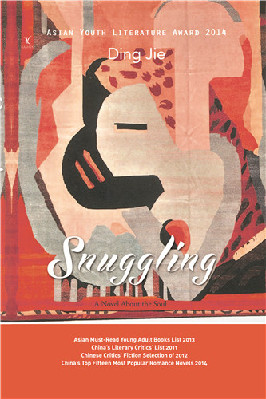 The English version of Chinese novel Snuggling by Jiangsu writer Ding Jie had its release ceremony at Phoenix Publishing and Media Group's booth at the London Book Fair on April 14, 2015.
Snuggling is a romance novel written in 2011. It was translated into Korean in 2013 and became a bestseller as well as an Asian Must-read Youth Book. The Chinese Nobel Prize winner Mo Yan inscribed the name of its Chinese version, and Chinese writer Su Tong said it "warms the coldness of death and chills the heat of love."
In 2014, Jiangsu Phoenix Literature and Art Publishing published the Chinese version and exported its rights to British publisher Xanadu Publishing. In order to fully display the original beauty in the language, the publisher chose the best translator from several samples and made sure the translated version accurately reflected the text .
Unlike the more serious or classic works that were introduced to the English world before, Snuggling focuses more on the emotions of Chinese youth, and vividly shows readers modern China with touching love stories.
Non-Fiction

Symbols of Jiangsu (Pocket Edition) selects the most representative and symbolic Jiangsu special cultural resources.

Humanities & Social Science; Non-Fiction

Symbols of China examines those things that make China Chinese.