Phoenix wins bidding for Guoyunlou --secures precious ancient Chinese book heritage
Updated: 2015-08-06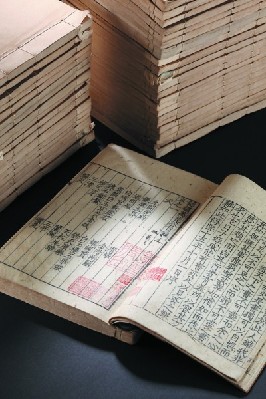 The Phoenix Publishing and Media Group outbid other competitors at the 2012 Beijing Council Spring International Auction, and acquired a part of the prestigious and historically valuable Guoyunlou Book Collection. The Nanjing Library helped Phoenix to secure the bid.
There were eight rounds of intense bidding before Phoenix won 1,292 classical Chinese works from the collection at a cost of 216,000,000 yuan (US$33,200,000), breaking a record for classical Chinese works.
At the same time, Peking University, who had desired to acquire a part of the collection, but couldn't compete with Phoenix. Therefore, they announced afterwards that they would buy the collection from Phoenix under a preemptive right to State cultural heritage.
The reason Nanjing Library was able to help Phoenix in the bidding was that it had already acquired three-quarters of the Collection in the early 1990s, and as such had the same preemptive right that Peking University claimed. Also, the Jiangsu provincial government wanted the entire collection to return to its original site.
The Guoyunlou library in Suzhou, Jiangsu province, was founded in 1873 during the Qing Dynasty(1616-1912)by the Gu family and had passed from generation to generation for more than 150 years. Among the collection are the encyclopedia Jinxiu Wanhuagu (Splendid Valley of Flowers) from the Song Dynasty (960-1279) -- the only well-preserved copy of this famous historical document.
Chen Haiyan, chairman of Phoenix, said the bidding was not for commercial or corporate interests but purely out of interest in Chinese culture and the company's love of Jiangsu province. Chen also said that they will do as much as possible to work with the Nanjing Library in exhibiting the entire Guoyunlou Collection as a significant moment in Chinese cultural history.
Non-Fiction

Symbols of Jiangsu (Pocket Edition) selects the most representative and symbolic Jiangsu special cultural resources.

Humanities & Social Science; Non-Fiction

Symbols of China examines those things that make China Chinese.