Phoenix signs cooperation agreement with American digital library
Updated: 2015-08-06

On May 29, PPM signed an agreement with the Cengage Learning Corp, an education company headquartered in Boston, at the Book Exposition of America, in New York.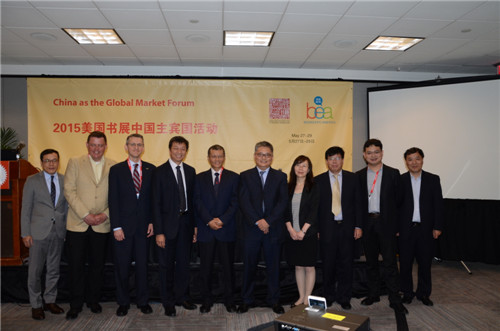 Tan Wen, deputy director general of China's State Administration of Press, Publication, Radio, Film and TV's Printing and Distribution Division, took part.
The agreement calls for Cengage's Gail Digital Collections to publish digital versions of four works of the Jiangsu People's Publishing House, a division of PPM. The four works are A General History of Chinese Buddhism (15 volumes, 6.5 million characters); The Modernization Process of the World, (10 volumes, 4.5 million characters); Japan's View of China in Modern Times, (6 volumes, 1.87 million characters); and A History of Postwar Japan (475,000 characters).
Tan said that these four works reflect the views of top Chinese scholars on China and the rest of the world.
Tan commented that the pioneering digitalization is a demonstration of China's rich history and communications between international researchers. He concluded that these four important publications are the result of rigorous studies of leading Chinese scholars, and can be spread more efficiently with the help of the Internet.
Non-Fiction

Symbols of Jiangsu (Pocket Edition) selects the most representative and symbolic Jiangsu special cultural resources.

Humanities & Social Science; Non-Fiction

Symbols of China examines those things that make China Chinese.