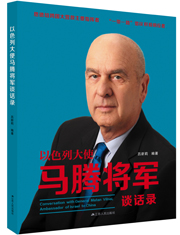 Conversation with General Matan Vilnai, Ambassador of Israel to China
The book is the first autobiography of a high-ranking Israeli official published in China. It describes the legendary military and political experiences of Matan Vilnai, Israel's influential retired Major General and former Ambassador to China.
Overview:
Inspired by the long history of Chinese cuisine, Little Cookery God is an original cartoon series about the main characters' adventures in finding gourmet food .
Titles and authors:
"Invitation Card for Cookery God", Edited by Xu Peiyu
"Cuisine Fight", Edited by Xu Peiyu
" Cookery God's Treasure", Edited by Xu Peiyu
"Traversing by Mistake", Edited by Xu Peiyu
Publisher: Jiangsu Phoenix Children's Publishing Group
Price:¥18.00
Publication date: June 2015