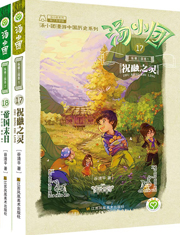 Tang Xiaotuan's Adventure in the Three Kingdoms
Since the Tang Xiaotuan book series was launched two years ago, the stories about the brave young time travelers have become very popular among young readers.
Overview:
The series include 12 kinds of cultural resources of Jiangsu which are most representative and symbolic such as "city wall of Ming Dynasty", "Nanjing brocade", and "Suzhou embroidery", etc. With pictures and accompanying texts in fresh and multiple forms, the series analyze the historical and realistic connotation of Jiangsu culture and intensively show the cultural influence of Jiangsu.
Author: Zhang Daoyi
Publisher: Yilin Press Ltd
Price: ¥580.00
May 2012
ISBN 978-7-5447-2654-2
Paperback 1220 pp