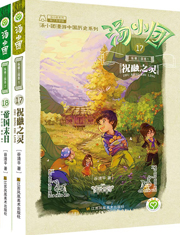 Tang Xiaotuan's Adventure in the Three Kingdoms
Since the Tang Xiaotuan book series was launched two years ago, the stories about the brave young time travelers have become very popular among young readers.
Overview:
The book focuses exclusively on Chinese classical private gardens rather than on modern replicas, imperial gardens, or gardens for public recreation. The creators of classical private gardens managed to reach a perfect integration of nature and culture, catering to people's needs for both the great beauty of nature and the comfort of urban life. To build such a garden is to build a paradise.
Author: Ruan Yisan
Publisher: Yilin Press Ltd
Price: ¥ 58.00
Sept 2012
ISBN 978-7-5447-3147-8
Paperback 267 pp