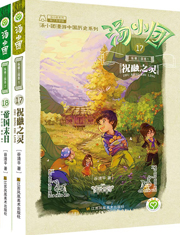 Tang Xiaotuan's Adventure in the Three Kingdoms
Since the Tang Xiaotuan book series was launched two years ago, the stories about the brave young time travelers have become very popular among young readers.
Overview:
Chinese cultural symbols have profound meanings. In a way to suit both refined and popular tastes, this book aims to illustrate the second symbol (image) and analysis the third symbol (image) through using the first symbol (character) and to help readers have a deep understanding of Chinese culture.
Author: Zhang Daoyi
Publisher: Jiangsu People's Publishing Ltd
Price: ¥ 50.00
Feb 2012
ISBN 978-7-214-03861-6
Paperback 509 pp