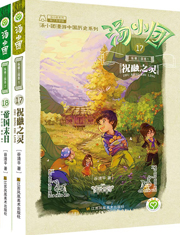 Tang Xiaotuan's Adventure in the Three Kingdoms
Since the Tang Xiaotuan book series was launched two years ago, the stories about the brave young time travelers have become very popular among young readers.
Overview:
This book is different from other research methods. It analyses Chinese totem culture from the perspective of cultural space-time. The functions and symbolic meanings of totems are analyzed, and the variations of totem culture are explored to give readers a more comprehensive and complete understanding.
Author: He Xingliang
Publisher: Jiangsu People's Publishing Ltd
Price: ¥ 42.00
Jan 2008
ISBN 978-7-214-04960-5
Paperback 613 pp