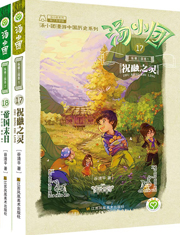 Tang Xiaotuan's Adventure in the Three Kingdoms
Since the Tang Xiaotuan book series was launched two years ago, the stories about the brave young time travelers have become very popular among young readers.
Overview:
Based on rich investigation of archaeology, history, philology and ethnology, the book displays the space and time of nature worship in China. The book explores the concepts, images, names, places of worship, rituals, taboos and myths of all ethnic groups in China.
Author: He Xingliang
Publisher: Jiangsu People's Publishing Ltd
Price: ¥ 29.00
Jan 2008
ISBN 9787214049599
Paperback 416 pp