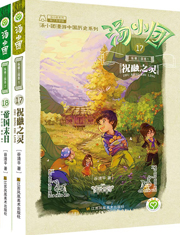 Tang Xiaotuan's Adventure in the Three Kingdoms
Since the Tang Xiaotuan book series was launched two years ago, the stories about the brave young time travelers have become very popular among young readers.
Overview:
For thousands of years, Confucian filial piety is the main moral idea in China; it deeply influences Chinese Culture, and also has significant impacts in Southeast Asia. The author, Prof. Gao Wangzhi, researched and analyzed the emergence, spread and influence of this moral idea. He started from the Book of Filial Piety by Ancient Writings, addressing the development and historical role of the culture of filial piety. It is a classic work for western readers, to help them deeply understand Confucian filial piety.
Author: Gao Wangzhi
Publisher: Jiangsu People's Publishing Ltd
Price: ¥18.00
Nov. 2010
ISBN 978-7-214-06525-4
Paperback 224 pp