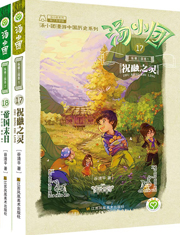 Tang Xiaotuan's Adventure in the Three Kingdoms
Since the Tang Xiaotuan book series was launched two years ago, the stories about the brave young time travelers have become very popular among young readers.
Overview:
This book describes the Great wall from five aspects: material body and the spirit, the history , the system of defense, the space – time of the architecture and the famous historical site.
It's very helpful to those who are interested in the Great wall, one of the world cultural heritage sites, and especially to getting to know the diversity of world culture and researching the evolvement of the human civilization.
Author: Dong Yaohui
Publisher: Jiangsu Science Press Ltd
Price: ¥ 38.00
July 2010
ISBN 978-7-5345-6079-8
Paperback 172 pp