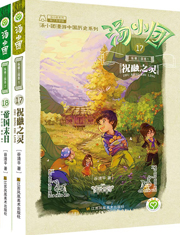 Tang Xiaotuan's Adventure in the Three Kingdoms
Since the Tang Xiaotuan book series was launched two years ago, the stories about the brave young time travelers have become very popular among young readers.
Overview:
This novel tells a story of two young people's spiritual love during a car accident in a Utopian-like northern country. It is an Oriental dream between a young man and a young woman. The novel has won the recent "Asian Youth Literature Prize". The Korean copyright has been sold.
Author: Ding Jie
Publisher: Jiangsu Literature & Art Publishing Ltd
Price: ¥ 28.00
Jan 2014
ISBN 978-7-5399-6765-3
Paperback 198 pp