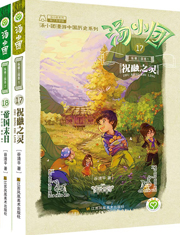 Tang Xiaotuan's Adventure in the Three Kingdoms
Since the Tang Xiaotuan book series was launched two years ago, the stories about the brave young time travelers have become very popular among young readers.
Overview:
This book is an initiation story about a girl who was born in 1970s. Ai Wan grew up in an ordinary multiple-sibling family in Qingyang town where she suffered a hard and depressed childhood.
Author: Huang Beijia
Publisher: Jiangsu Juvenile & Children's Publishing Ltd
Price: ¥ 19.00
May 2010
ISBN 978-7-5346-5167-0
Paperback 261 pp