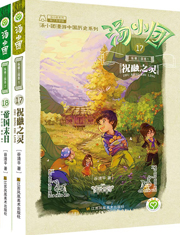 Tang Xiaotuan's Adventure in the Three Kingdoms
Since the Tang Xiaotuan book series was launched two years ago, the stories about the brave young time travelers have become very popular among young readers.
Overview:
The process of growing up will be full of joy with the company of friends. Two trees didn't feel lonely any more since they became friends.
Author: Qi Zhi
Publisher: Xanadu Publishing Ltd
Price: £8.99
April 2015
ISBN 987-1-78459-072-7
Paperback 20 pp