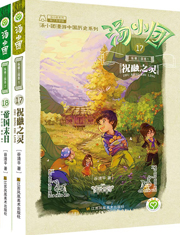 Tang Xiaotuan's Adventure in the Three Kingdoms
Since the Tang Xiaotuan book series was launched two years ago, the stories about the brave young time travelers have become very popular among young readers.
Overview:
This is a heart-warming story about a group of childhood friends. Their tale unfolds naturally against a rural backdrop of village streets and houses. The open sky, rivers, trees, and grain fields; the dogs, sheep, and chickens... All these are the simple components of the story, and of their homeland.
Winner of "Five One Project" Award
2014 Top 10 Chinese Children's Books
Book of the Month on Bookdao.com
Author: Qi Zhi
Publisher: Xanadu Publishing Ltd
Price: £10.99
April 2015
ISBN 978-1-78459-046-8
Paperback 246 pp