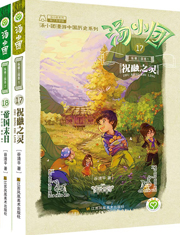 Tang Xiaotuan's Adventure in the Three Kingdoms
Since the Tang Xiaotuan book series was launched two years ago, the stories about the brave young time travelers have become very popular among young readers.
Overview:
The Silk Road is a two-part series with the first book entitled Silk Road Grasslands and the second The Maritime Silk Road. The works succinctly trace the origins and developments of these two vital and fascinating trade routes. They pay particular attention to key historical fluctuations that took place along the land and sea pathways, as well as focusing on the rich variety of civilizations that worked and serviced these famed trade connections between Asia and Europe.
Liu Yingsheng, a professor at Nanjing University, has played a key role in the formation of Silk Road Grasslands and The Maritime Silk Road, as well as The Altay Silk Road. Lin has also served as vice-leader and leader of International Investigation Group.
Author: Liu Yingsheng
Publisher: Jiangsu People's Publishing Ltd
Price: ¥78.00
Aug 2014
ISBN 978-7-214-13951-1
Paperback 609 pp
Coyright manager: Queenie Liu swallowliu_nnu@163.com