Phoenix Publishing & Media Int'l (Australia) Ltd, new CCCA member
Updated: 2015-10-08

Phoenix Publishing & Media International (Australia) Ltd., was invited to the annual meeting of China Chamber of Commerce in Australia (CCCA) due to its contribution to cultural exchanges between China and Australia.
As the annual platform for interaction and in-depth discussions between Chinese entrepreneurs, the grand meeting of CCCA held in August 2015 was joined by hundreds of local Chinese enterprises.
Mr. Zhou Wenzhong, Secretary-general of Boao Asia Forum, Mr. Song Yumin, the Chinese Consul - General in Melbourne, and Ms. Liu Yu, the Commercial Counselor, also attended the meeting.

Nominated by Consulate-General of China in Melbourne, Phoenix (Australia) was successfully approved by the board of CCCA to become a new member in the together with 11 other companies, including China Minmetals Corporation and the Power Construction Corporation of China (POWERCHINA) Australia. This underlines that Phoenix (Australia) has entered the core circle of Chinese businesses in Australia, which means more access to abundant high-end resources as well as greater social responsibilities.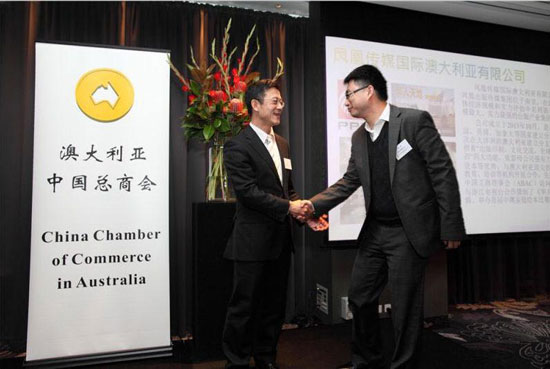 Since its establishment in 2013 Phoenix (Australia) has set clear strategic goals such as "deepening cultural exchanges between China and Australia and enhancing PPMG's international exposure". Against the backdrop of PPMG's magnificent cultural resources, Phoenix (Australia) has been deriving its business essence from traditional Chinese culture, in combination with characteristic local features and highly developed industries in Australia.
Two years on since its establishment, Phoenix (Australia) has so far organized various visits of the APEC Business Advisory Council (ABAC) to Australia, and has been heavily involved in the making of the very first Australian edition of the "Chinese World", a well-known TV program in China, as well as many other important cultural integration events.
As a result of the unrelenting endeavors of every single crew member of Phoenix (Australia), the company has gained a reputation among both Australian and Chinese customers as one with "exemplary event creativity, highly efficient executive ability, and high quality service guarantee."
Phoenix Xinhua Printing Co. has been expanding in global markets by establishing strategic branches in London, Melbourne and Windhoek of Namibia. While focusing on its main business in printing, the company at the same time gradually diversifies its operations, entering into the fields of cultural exchange, goods trade, real estate and hotels. During the implementation of 13th Five Year Plan period, the company will actively pursue strategic "Belt and Road Initiative", by expanding its business activities into neighboring countries, promoting exceptional Chinese culture and high quality industrial capacity under the theme of "Going-Global".
Edited by Mevlut Katik
Non-Fiction

Symbols of Jiangsu (Pocket Edition) selects the most representative and symbolic Jiangsu special cultural resources.

Humanities & Social Science; Non-Fiction

Symbols of China examines those things that make China Chinese.