West meets East drinking cultural
Updated: 2015-11-20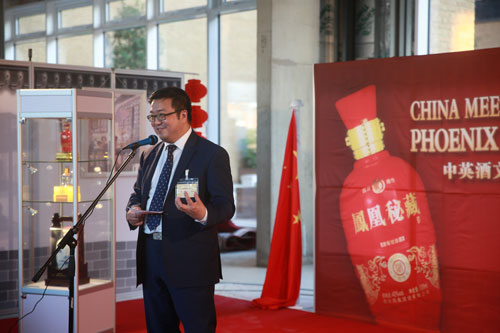 Speech by Jason Li
Drying the cup (ganbei)
Whatever you're drinking — baijiu (Chinese liquor), vodka, beer, wine — forget your fancy ideas of savouring the bouquet and whatnot. You'll be doing toasts one after another, and toasts mean drinking up. It's called ganbei, which translates literally as "drying the cup." You'd better do it, or be forever branded as a disrespectful sissy.
Be respectful (jing jiu)
People will likely toast you to show their respect and hospitality. Once you've started, make sure you toast everyone who might outrank you. It's called jing jiu: "respectfully proposing a drink." If the people are many and you're worried your head might not take it well, you can tick them off in twos and threes; it's perfectly acceptable. Remember: if you're the one offering the toast, you're putting yourself in an inferior position, which means you have to be the more respectful one. Thus, it's better if you stand up and empty your cup completely. If you want to impress your hosts even more, remember to hold your glass in both hands (one propping up the bottom). Afterwards you can tip it slightly towards the person you were drinking with to show them you've drunk up.
Courage, quantity, and quality
The running opinion is that Westerners can drink much more than Asians. It's perfectly all right if you get drunk, even during business dinners. In fact, it's kind of expected. If you leave sober, your hosts might think they've failed to show the proper hospitality. As a foreigner you might be required to drink even more, since the running opinion is that Westerners can drink much more than Asians. Then again, in China, as everywhere else, it's a point of pride to be able to hold your drink. The bottom line is, it's best if you drink whatever they give you. This is called jiudan — "drink courage" — and the more you have of it, the better. Of course having jiudan doesn't automatically mean you have a good jiuliang — "drinking capacity" or the ability to hold your drink. But this really doesn't matter, as long as you have good jiupin — "drink manners" or meaning the way you behave when inebriated. Ideally you'll have all three, but if you don't, the first one is the most important.
Chinese liquor
The Baijiu you'll be drinking will not necessarily be to your liking. I've yet to find a foreigner who says they actually like drinking baijiu (Chinese rice and sorghum liquors, as strong as vodka), which is what will likely be served.
It's a Chinese banquet, so there'll be plenty of fatty food on the table. If there's liquor to be drunk, shovel it up even if you're on the point of bursting. If all this seems a bit daunting, don't worry too much. Your hosts know you're used to a different way of doing things and they'll not expect you to follow their rules. If you observe them, you're scoring extra points, but nothing bad will happen if you get it wrong. They simply want to make you feel welcome. So just put on a big smile, enjoy the hospitality and — drink up whatever they give you. Ganbei!
Three ways to drink Baijiu better
1. Keep Baijiu in the Freezer for one hour, then drinking it.
2. Pull Baijiu in a glass and added ice, sometime plus soda or coke.
3. Mixed Baijiu with apple juice, pineapple juice, water melon juice or lychee Juice; make sure shake it not stir. As same as James Bond.
Three tips to drinking Baijiu
1. Try to using the smaller glass for Baijiu
2. Eat more food and drink slowly
3. Don't be a Hero
Looking forward to see the new Chinese dessert Baijiu.
Non-Fiction

Symbols of Jiangsu (Pocket Edition) selects the most representative and symbolic Jiangsu special cultural resources.

Humanities & Social Science; Non-Fiction

Symbols of China examines those things that make China Chinese.