Phoenix attends Confucius Institute Conference
Updated: 2015-12-15

Phoenix Publishing Media Group (PPMG), the first cultural company engaged in the Confucius Institute's construction, took part in the 10th Confucius Institute Conference held in Shanghai on Dec 6-7.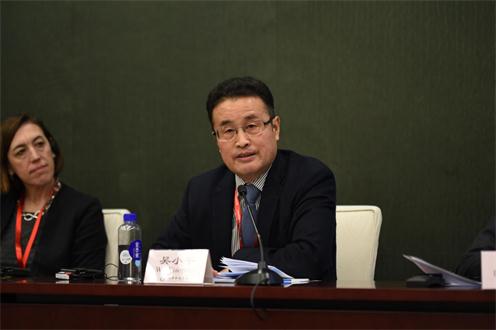 Wu Xiaoping, PPMG's general manager, gives a speech at the conference. [Photo/PPMG]
As the only Chinese cultural enterprise approved to join construction of Confucius Institutes outside the country, PPMG has always had a social responsibility to promote cultural exchange with foreign countries, said Wu Xiaoping, general manager of the group, at an exchange forum of the conference.
So far, the group has sponsored two Confucius Institutes at US and Chilean universities. Wu believes cooperation with foreign universities can contribute to a strategic partnership featuring mutual benefit, common development and resource sharing.
Wu also revealed plans to seek cooperation with Central Asian countries in publishing in a bid to implement the national Belt and Road Initiative and promote Chinese culture globally.
The 10th Confucius Institute Conference, organized by the Hanban, or the Confucius Institute Headquarters, was held in Shanghai from Dec 6 to 7. The event invited more than 2,300 participants from 134 countries and regions, including university presidents, Confucius Institutes officials, foreign diplomats in China and business people.
Non-Fiction

Symbols of Jiangsu (Pocket Edition) selects the most representative and symbolic Jiangsu special cultural resources.

Humanities & Social Science; Non-Fiction

Symbols of China examines those things that make China Chinese.