Phoenix publishes Disney comic books
Updated: 2016-01-14

Phoenix Juvenile and Children's Publishing Ltd, a publishing house under the Phoenix Media, held a launch ceremony for a collection of Disney comic books in Beijing on Jan 7.
The books Mickey Mouse Classic Comic Collection, in simplified Chinese, are jointly published by Phoenix Juvenile and Children's Publishing and Shanghai Manjie Culture Co. It is a collection of works created by the late Floyd Gottfredson and Carl Barks, the great cartoonists who created the classic "Mickey Mouse" and "Donald Duck".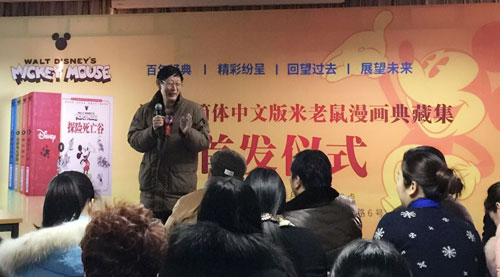 Guan Jingyu, counselor of the magazine Picture Stories, addresses the launch ceremony.
She Jiangtao, vice-president of PPM, said the cooperation between PPM, Shanghai Manjie Culture and the Walt Disney (China) will facilitate the copyrights trading, book publication and derivative products development and promote the development of the animation industry.
As partners for years, PPM and Manjie have cooperated on the publication of a series of comic books including Armor Hero, Happy Q-Bot, Giant Saver and Balala The Fairies.
Senior managers at PPM, Walt Disney's copyright manager Meng Li, and Manjie's chairman Jin Yuechun, attended the ceremony.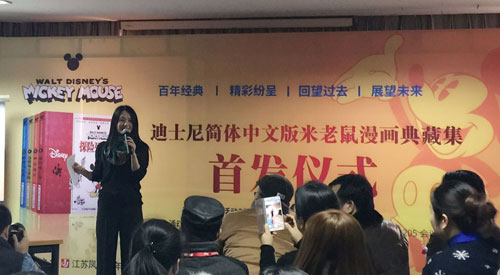 Meng Li, copyright manager of Walt Disney Co, attends the ceremony.
Non-Fiction

Symbols of Jiangsu (Pocket Edition) selects the most representative and symbolic Jiangsu special cultural resources.

Humanities & Social Science; Non-Fiction

Symbols of China examines those things that make China Chinese.