Phoenix Media attends New Delhi World Book Fair 2016
Updated: 2016-01-22

Phoenix Publishing & Media Inc, a leading enterprise in China's publishing and distribution industry, exhibited 178 varieties of books including 30 English ones at the 24th New Delhi World Book Fair held in India on Jan 9-17.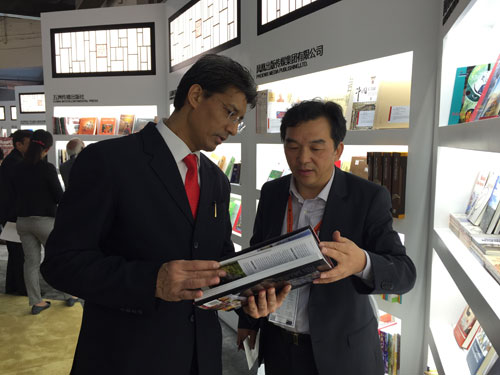 The event attracted 1,110 exhibitors from over 30 countries and regions as well as more than 1 million visitors. Some 500 panel discussions and exchanges on publishing culture were held during the fair. China was selected as the Guest of Honor this year.
Staff of Phoenix Publishing & Media Inc discussed with overseas exhibitors and representatives of Jawaharlal Nehru University to seek business cooperation, and attended a launching ceremony of the Indian-edition of Lun Yu (Analects of Confucius) translated by Doctor B.R.Deepak. The company donated Phoenix-published books to the university.
During the fair, Phoenix signed 14 copyright export letters of intent with partners including CBS Corp and XACT Books.
At the India-China Publishing Development Forum, Liu Feng, vice-president of Phoenix Publishing & Media Inc, delivered a speech on innovations in the publishing industry in the digital era.
Initiated in 1972, the New Delhi book fair has developed into the largest of its kind in India and South Asia. The Fair is organized by National Book Trust, India, an apex body of the Government of India, under the Ministry of Human Resource Development.
Non-Fiction

Symbols of Jiangsu (Pocket Edition) selects the most representative and symbolic Jiangsu special cultural resources.

Humanities & Social Science; Non-Fiction

Symbols of China examines those things that make China Chinese.